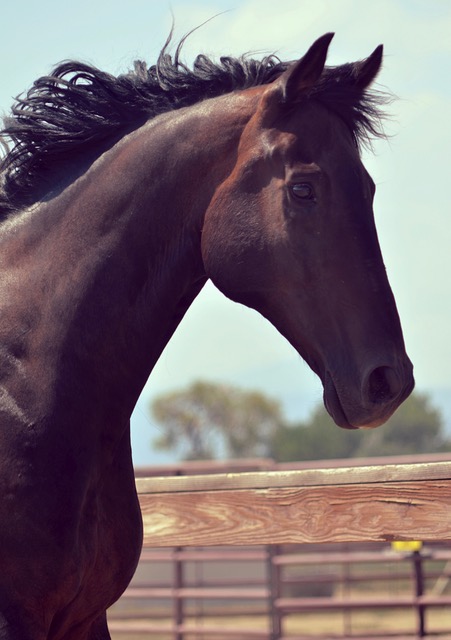 At the beginning of January, 2019, a stately Dutch Warmblood – Holsteiner crossed gelding took his first steps off of a trailer and onto the property of the Colorado Horse Rescue. Even in these first moments, it was very clear to us all that this tall, dark, and handsome horse by the name of Cosmo was going to end up being something very special. What we didn't realize was the journey we would go through to help him reach his full potential. 
Cosmo came to the rescue from a very loving family that had to cut down on the number of horses in their personal herd. They wished for him to stay off of the open market in fear that he would end up in a bad situation, and looked to CHR for help. While this gelding might have had some training and riding in his past, he had been sitting in pasture for several years before coming to us. He would need to be restarted. 
Surprisingly, during his training evaluation Cosmo showed a different side of himself. In groundwork sessions, he would not hesitate to charge or strike under even a light amount of pressure. Once we did get the chance to ride, he showed high anxiety and would try to hit his rider with his own head. It was very apparent that he had learned to take over, no matter the cost to his handler. He was not responding well to traditional natural horsemanship training methods, and ultimately the CHR training team decided that the best course of action was to let Cosmo rest out in pasture for some time to reset mentally and emotionally.
Fast forward to this summer, and the CHR trainers have new tricks up their sleeves. Over Cosmo's resting period, Sarah and Susan had been researching new training methods that incorporate positive reinforcement (or giving treats as rewards for wanted behaviors). They had already tested this method on several different "sensitive" horses on site with wonderful results. To Susan, this was a great opportunity for us to reintroduce Cosmo into training and to try something new with him.  Here is the first installment of Cosmo's training blog, written by his dedicated trainer Susan Chandler.
Knowing Cosmo's previous behavior, I started with very, VERY small objectives. The first step was to teach him how to go into a "treat receiving mode", which meant having him keep his head neutral or looking away from me in order to receive the reward. This would prevent him from being pushy or nippy over the food, hopefully keeping me relatively safe while working with him and the positive reinforcement technique. Cosmo was making extraordinary progress with this small task, and even was enjoying the work! After a few short sessions, he even began to respectfully coming up to me in his pasture, ready to engage and start his session.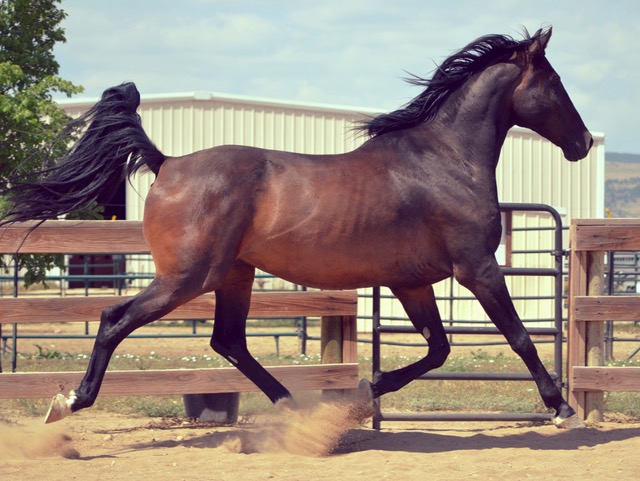 The next steps that we took were for him to start "targeting" a halter (walking to it and touching it), and introducing the self-haltering process. Once again, his need to immerse himself into this positive reinforcement training was astounding. At the end of only a couple of days he would follow his target from long distances and eagerly stick his nose into the halter. 
In my short time working with Cosmo I find myself amazed at the progress that we have made, and by how willing a training partner he has turned out to be. If there is a moral to this tale, I would say that one should not expect any single training method to be a "one size fits all". Be ready to have an open mind and seek new approaches when you run into what seems to be impossible hurdles. 
For more on Cosmo's training journey, be sure to tune back into our blog next week!